About Us/Info
Oak Plantation Campground wishes to welcome your family to our families place with southern hospitality. We are open from 8 AM to 8PM. For reservations call between 9am to 6pm. We are just 10 miles from historical downtown Charleston. Come relax and enjoy yourselves.

Just look at all that Oak Plantation has to offer:
• Over 200 camping sites available
• 30 Amp - 50 Amp full hook up sites on gravel drive-on pads
• Big rigs welcome
• Quiet, restful atmosphere
• Paved roads for easy access
• Largest campground Charleston
• Trading post convenience store stocked with RV supplies, ice, some groceries, health items and book exchange.
• New Publix grocery & pharmacy within walking distance
• Gas station with diesel next door
• LP gas available
• Wi-Fi Internet and cable TV available at all sites
• Clean, modern showers and restrooms
• Nice laundry facility
• Sparkling outdoor pool (Not heated)
• Picnic shelter for large family gatherings
• Play area . Disc Golf . Garden Chess
• Freshwater fishing lake (no license required)
• Pets welcome with leash
• Large fenced in dog run
• Campfires permitted in above ground fire bowls (Available for Rent)
• RV repair and service available in Charleston at various locations
• RV/boat storage available
• (Seasonal) Sunday Chapel Service at 8:30 am Starting 4/1/18
• No tent camping or primitive camping
. Dump station


Weather Info
Jan Avg. High 57° Avg. Low 38° Mean 48° Avg. Precip 3.7 in

Feb Avg. High 60° Avg. Low 40° Mean 50° Avg. Precip 3.5 in
Mar Avg. High 67° Avg. Low 47° Mean 58° Avg. Precip 4.4 in
Apr Avg. High 74° Avg. Low 55° Mean 65° Avg. Precip 2.7 in
May Avg. High 81° Avg. Low 64° Mean 72° Avg. Precip 3.5 in
Jun Avg. High 86° Avg. Low 70° Mean 78° Avg. Precip 5.4 in
Jul Avg. High 88° Avg. Low 74° Mean 81° Avg. Precip 5.1 in
Aug Avg. High 88° Avg. Low 74° Mean 81° Avg. Precip 7.1 in
Sep Avg. High 84° Avg. Low 70° Mean 77° Avg. Precip 4.5 in
Oct Avg. High 77° Avg. Low 68° Mean 68° Avg. Precip 3.5 in
Nov Avg. High 68° Avg. Low 50° Mean 60° Avg. Precip 2.9 in
Dec Avg. High 61° Avg. Low 42° Mean 52° Avg. Precip 3.4 in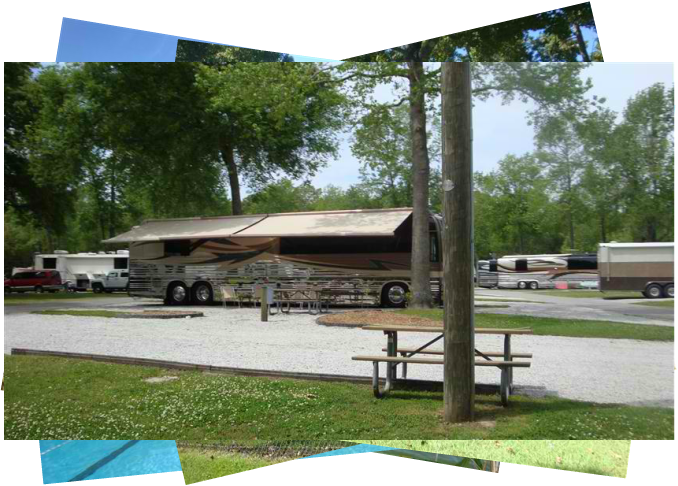 More photos on Photos page
---
Golf Cart Restrictions
They have to be Electric.
They have to have lights if driving at night.
They have to have a licensed driver driving at all times.
We need a copy of the liability insurance.
Dog Rules
Guest have to pick up after them.
They can't disturb other guest.
Doggies have to be on a leash at all times unless in the dog run area.
Dog's are not allowed to be left outside without the owner being present.
Dog need to be quiet during quiet hours 10 pm to 7 am.